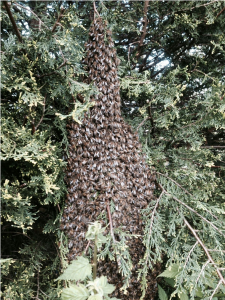 If you'd like to request a swarm of bees, please read these notes on swarm availability then complete the form below. This will tell our team of volunteer collectors who wants swarms and help them make contact with you when a swarm becomes available.
We usually give priority to new members once they are ready (to turn them into beekeepers) but all registered members may apply.
When you get your swarm, please pay the association's agreed swarm fee of £20 directly to the collector, this provides both a donation to the association and it also helps to cover the collector's out of pocket expenses. Please note that all our collectors are unpaid volunteers who give up their valuable time to provide a service to the public and bees to beekeepers.
Please be aware that although unusual, a swarm may have a virgin queen which takes some weeks to start laying eggs, the swarm may not survive and it may abscond – we cannot guarantee the quality of a swarm.
If after receiving a swarm, you'd like another, please re-apply. To make this whole process manageable, and fair to all, we won't accept multiple concurrent applications. Also, if you are not a current, registered member of the association, please don't apply.
………….and finally, especially to our new and inexperienced beekeepers, we hope you appreciate that we have a duty of care to all swarm recipients (and their family and neighbours) and that we won't provide swarms to anyone unless we believe them to be confident and ready to look after their new bees safely (or can call on support from a mentor or other competent beekeeper). This is why it's so important to attend as many of the practical training sessions as you can so you become confident with the bees as quickly as possible, and we can be confident that you will be safe.