105 years supporting and training beekeepers in North East Hampshire
Fleet & District Beekeepers' Association is a registered charity (number 1188934) whose object is "To promote and further the craft and science of beekeeping and to advance the education of the public in the importance of honey bees to the environment.". We are the largest beekeeping association in Hampshire with around 200 beekeeping members and over 30 non-beekeeping (family/associate) members in Aldershot, Ash Vale, Farnborough, Fleet, Church Crookham, Crookham Village, Dogmersfield, Hartley Wintney, Hook, Odiham and surrounding district, as well as members in nearby Surrey and Berkshire; and further away in Buckinghamshire and Devon.
What did you have for breakfast today? Jam on toast? Fresh fruit? Dried fruit in your muesli or some grilled tomatoes with your fry-up? Maybe fruit juice or a coffee? All of this was brought to you by bees and other pollinators! Did you know?
90% of all fruit and vegetables you eat are pollinated by insects, especially bees.

Honey bees from the same hive collect pollen and nectar from about 225,000 flowers per day. One single bee usually visits between 50-1000 flowers a day, but can visit up to several thousand.

Honey bees need to collect nectar from about 2 million flowers to make one pound of honey.

In the UK there are approximately 44,000 beekeepers looking after around 240,000 hives producing 6,000 tons of honey per year.

We produce only 20% of the honey we consume – the rest is imported.
Beekeeping is a fascinating and challenging hobby that is very rewarding in many ways. Whilst it's great to be able to eventually harvest your own honey, you also get a great sense of satisfaction being connected directly to the natural world whilst knowing that your hobby is having a beneficial effect on the environment around you.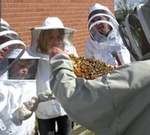 Fleet & District Beekeepers' Association (FBKA) was founded in 1918 to support beekeepers across North Hampshire and over 100 years on, we welcome new members wanting to learn this fascinating and ancient skill. We became a Charitable Incorporated Organisation (CIO) in April 2020. We encourage, train and support local beekeepers to maintain healthy, docile and productive honey bees as well as advancing the education of the public in the importance of bees in the environment.
We hold regular meetings and other events to promote best practice and further the craft of beekeeping. Over the last few years the growing interest in beekeeping as a hobby has made our Beginners' course very popular and we currently have around 230 members. Prospective beekeepers of all ages are always made welcome in our very friendly association.
Our Beginners' course runs from March each year and is designed to take a complete novice and turn them into a competent, confident and safe beekeeper.
Find out more about this amazing hobby, becoming a beekeeper, and our association here and click the to find out more about training, membership or general enquiries.
Come and say hello at a local event. We support quite a few community events local fetes and activity days often with an observation hive. Maybe even some local honey for sale!